11/28/2015 events
Live Music
Sarah Anderson Recieves a RAMI Young Music Scholarship to the Music Academy in Rockford

The RAMI's presented a RAMI Young Artist Music Scholarship to the Music Academy in Rockford to Sarah Anderson.
Sarah was born deaf in an orphanage in China. After coming to Rockford to live with her adoptive family, a local doctor donated his services to perform surgery on Sarah when she was a toddler that restored her hearing. Her doctor recommended Sarah to the Music Academy believing that learning the violin would help her refine her hearing and speech skills.
The RAMI's are honored to help be a part of Sarah's future music education and have awarded her the scholarship to help cover the cost of a year of tuition at the Music Academy. In the spirit of the founder of the RAMI's, Gary Wilmer, the RAMI's continue to strive to support music scholarship and education programs in the Rockford and surrounding area. For more information on RAMI programs.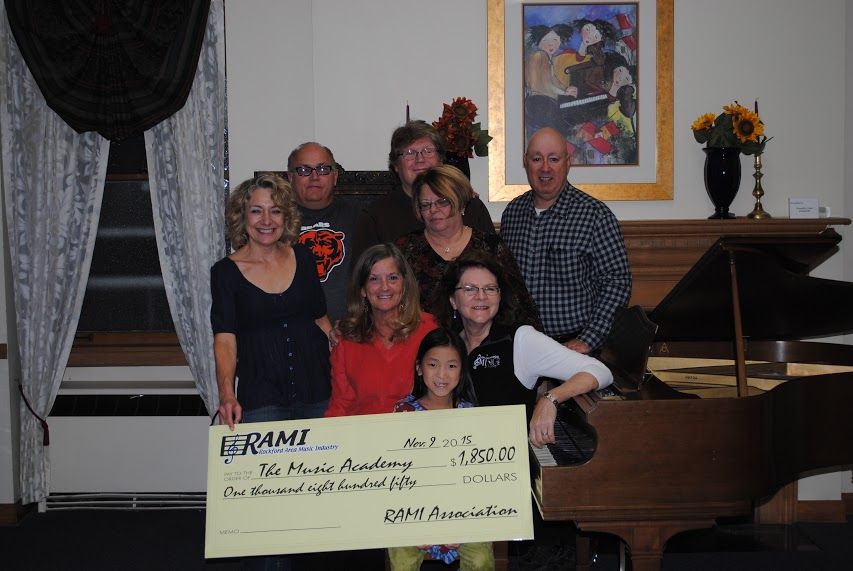 ---
Round Two Nominations for the 25th Annual RAMI Awards
The 25th Annual RAMI Awards Round Two nominations are now open. Members may login to select the finalists that will appear on the RAMI ballot. The top five musicians/groups will be placed on to the ballot for voting. Ballot selections are open until November 28th. These nominations/ballot selections are only open to RAMI Organization members.

The nomination procedure has changed to include more participation from the membership in choosing nominees and selecting those to be included on the ballot. Click here to download a summary of the new nomination procedure.
RAMI Nomination Guidelines - 2015
---
Music / Technical Categories
RAMI Members click here to login
Round One Nominations - Completed
Round Two Ballot Selections - 10/25/2015 to 11/28/2015
Voting - 2/14/2016 to 3/19/2016
---
Recording Nominations Accepted through January 31, 2016
Click here to download a recording nomination form
---
Community Service, Lifetime Achievement & People's Choice Nominations are open to the public through 11/26/2015
Community Service Online Nomination Form
Lifetime Achievement Online Nominatons Form
People's Choice - Artist of the Year Online Nomination Form
People's Choice - Favorite Radio Station Online Nomination Form
People's Choice - Favorite Venue Online Nomination Form
People's Choice - Favorite Special Event Online Nomination Form
---
Tracy Silverman
2010 Outstanding Achievement Winner
---
The RAMI Organization
Each year the RAMI organization hosts several events to help fund the Gary S. Wilmer RAMI Music Scholarship and to promote the local music community. Our premier event is the RAMI Awards Ceremony which is held in April each year. The RAMI Awards recognize and celebrate the efforts of groups and individuals who have involvement in the local music community. Other events include a benefit, held in March each year, featuring some of the premier retro/pop bands in the area.